The Rack™
A Heating & Cooling Energy Rotation System
Heating
Heating & Cooling
The Energy Rotation System
Guarantees ENERGY SAVINGS while maintaining consistent BUILDING TEMPERATURE
Product features:
High Energy Savings
Consistent Building Temperature
Low Installation Cost
No Loss of Valuable Floor Space
Quiet Operation
Low Maintenance
Fresh Air Intake Option
ER-142-400 (single unit)
ER-242-800 (double unit)
Bry Belly
Camp Atterbury Building
The Rack™
Heating Applications
THE RACK can meet your heating demands whether heating a 10,000 square foot steel building or a 600,000 sq ft multi-tenant structure. THE RACK utilizes the industry's most energy efficient heater and combines it with a ceiling hung air turn-over unit.
The Energy Rotation (ER) unit has two distinct functions. First, the unit-heater controlled by the thermostat, cycles on and off based on the temperature demands of the building. And secondly, the ER's rotation fan runs continuously distributing heated air evenly throughout the space.
Basic RACK models are available in four sizes:
ER-130-200 : 9,000 cfm – 200,000 btu/hr
ER-230-400 : 18,000 cfm – 400,000 btu/hr
ER-142-400 : 16,500 cfm – 400,000 btu/hr
ER-242-800 : 33,000 cfm – 800,000 btu/hr
Additional features of the RACK Heating Energy Rotation Unit include:
93% efficient…truly the first "GREEN HEATING SYSTEM"
Offers ultimate flexibility for multi tenant buildings as square footage changes in size and usage
Utility savings up to 40%…1 ER unit can replace multiple standard unit heaters – using the same flue vent piping… ideal for retro-fit projects
De-stratifies heated ceiling air to floor level
Utilizes any heat source: natural gas, steam or hot water or electric unit heaters
Fresh outside air can be supplied through roof mounted intake hoods or side wall intake louvers or dampers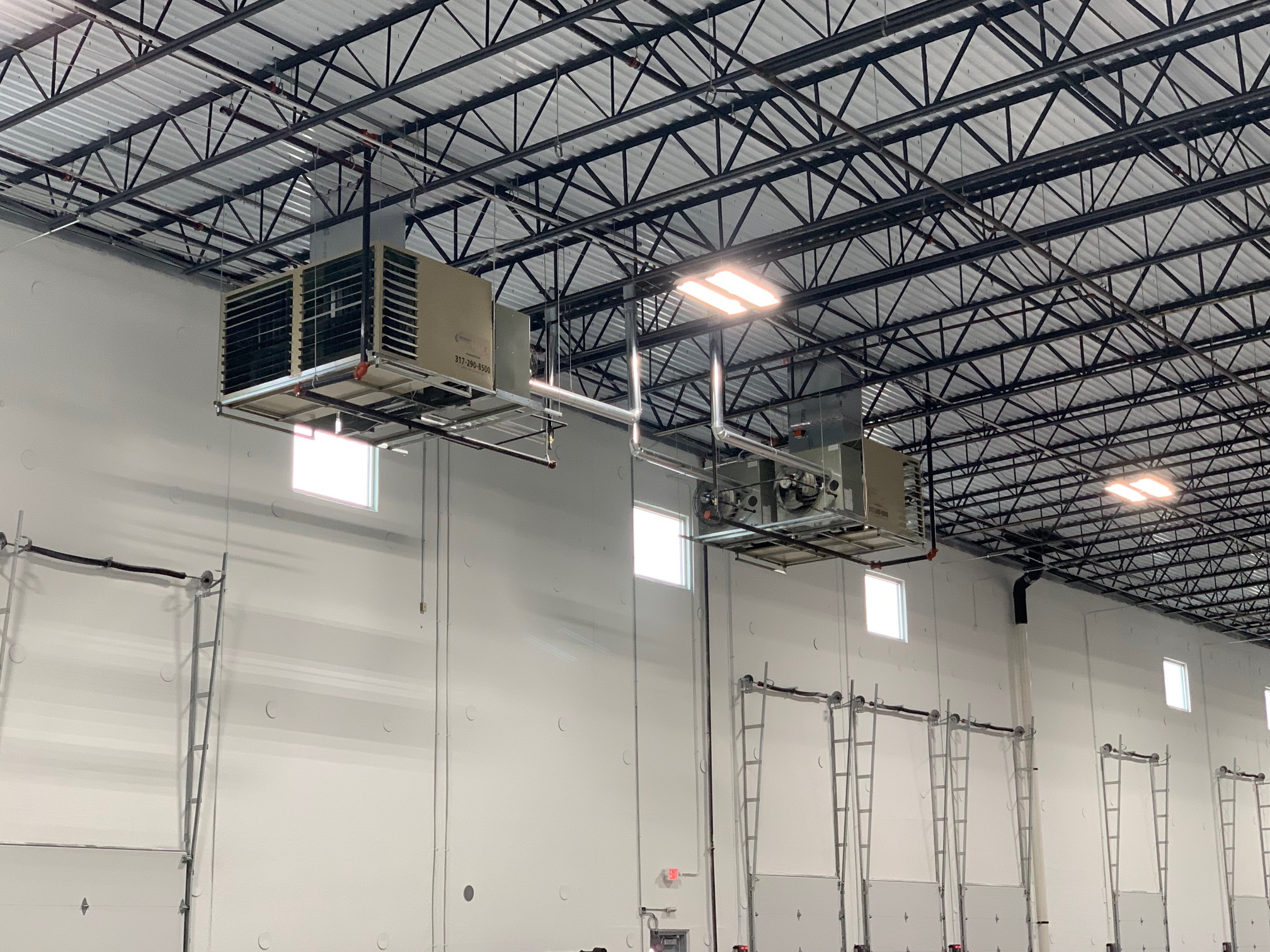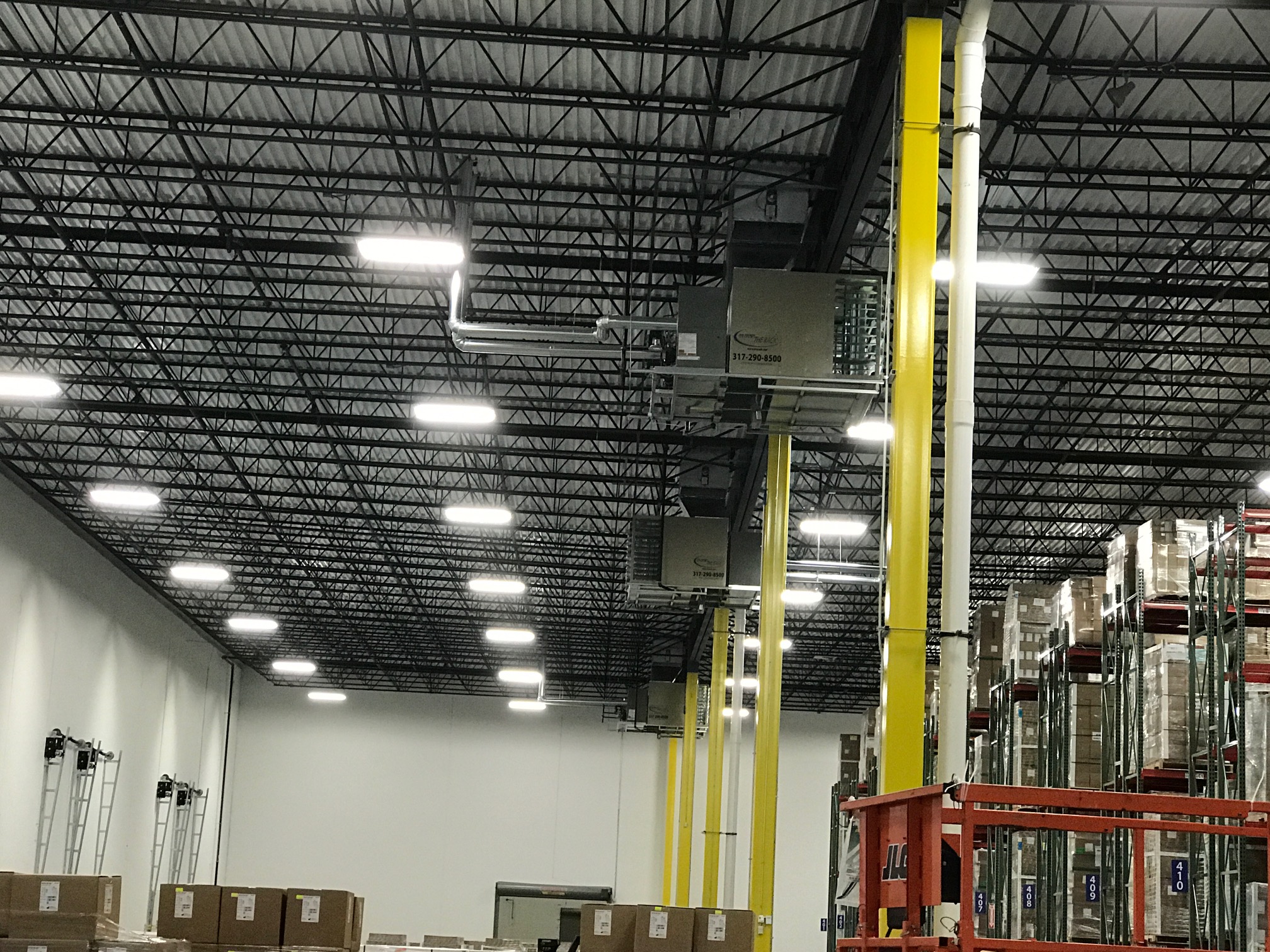 Heating & Cooling Applications
THE RACK, incorporated with conventional heating and cooling roof-top units, provides the most cost efficient method of maintaining temperatures in a facility.
Utilizing any manufacture's equipment, THE RACK mixes the unit's discharged air with large volumes of returned plant air. The ceiling hung installation design allows THE RACK to turn over and distribute air with minimal electrical consumption…while preserving your valuable floor space.
Example: 25 ton roof top units have a discharge air flow of 10,000 cfm. By discharging the 10,000 cfm into the ER-242, air circulation increases to 33,000 cfm… resulting in even temperatures through the facility.
This process will eliminate hot and cold spots associated with standard heating or heating/cooling systems. The building maintains even temperatures and increases the comfort level for employees.
Steel Building & Precast Facilities:
Reduces the need for expensive roof structural steel (Steel Buildings)
Eliminates roof penetration which causes roof leaks (Steel Buildings)
Decreases the quantity of units needed to distribute the conditioned air evenly throughout the space
Maintains consistent temperatures throughout the work environment eliminating the need for expensive discharge duct work
Lowers installation costs with gas and electrical piping
Saves utility expenses in both natural gas and electrical consumption
Orora
Dow RTUs